Performance Rehab Services​
"At Up And Running PT We Work With Athletes, Runners, Active Adults, And Weekend Warriors To
Help You Reach New Personal Records, Increase Your Speed And Strength, And Perform Better In Your Favorite Spot."
Not only do we help get you better after an injury…we help you prevent a future one!
You're not just going to leave here feeling better, but you'll also be a better athlete.
Whether You're Injured Currently Or Just Want To Perform At The Next Level, We Have Services That Can Help:
This therapy helps to release muscle tension, speeds up injury recovery, and can even prepare you between races or training sessions. It's performed by a FDN Certified physical therapist so you know you'll get the best care.
Functional Exercise Prescription
We offer condition-specific, personalized movements and exercises designed for you by a physical therapist to support your recovery and sports performance.

The assessments at Up And Running Physical Therapy are one of the things that set us so far apart from the rest of the industry. Our physical therapist offers one-on-one evaluation to assess the pain you experience during daily activities, exercise, and sports. With our method, not only will we get rid of the problem, but work to make you a better runner or athlete than you were before having pain.
At Up And Running Physical Therapy we treat the body as a whole. Through our extensive training and experience, we are aware that the location of your pain may not reflect the actual cause of your discomfort. We will identify and target any weak areas to help bulletproof the rest of the body and decrease the likelihood of sustaining injuries in the future.
Up And Running Physical Therapy is a leader in cutting edge sport performance training. We can help you increase your speed, run farther distances, work towards a new personal record, gain strength, and much more. You'll be a totally different athlete after working with us.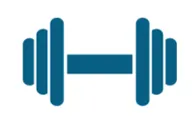 Blood-flow Restriction Training & Therapy
Want to get stronger while doing lower intensity training? That's exactly what blood flow restriction training can do for your body. It's safe and super-effective at accelerating strength improvements without lifting heavy weights.

Functional Movement Screening
This evaluation technique can help pinpoint specific movement problems that you likely don't even know are going on. A lot of time, these unidentified problems are what causes pain and injury in the future. Let us help you correct these movements before pain or injury occurs by performing a functional movement screening on you today.
By watching you run, a physical therapist can identify abnormal movements, postures, and weaknesses that can contribute to overuse injuries, decrease running efficiency, and reduce overall performance. Even a "healthy" or uninjured runner can make small changes to their running form that can result in improved performance. With our physical therapist's trained eye and the use of slow-motion video massive positive changes are possible.
What Other People Just Like You Are Saying About Up And Running Physical Therapy In Fort Collins, CO...
"AJ is incredible! I was battling a hip injury less than 2 weeks out from my marathon, I was experiencing pain that I was concerned might hinder my performance (and even attendance) at the race. Luckily enough, I was able to put in a few dry needling and PT sessions with Dr. Coen and felt little pain during my successful completion of the Moab trail marathon! I'll definitely will continuing my sessions w AJ."
"AJ has been a great resource to help my running – I've seen him for a couple of different things over the past several years and it has been helpful every time. AJ clearly has a lot of expertise and I appreciate his dedication to research supported practices in the field – he stays up to date and targets his interventions toward what will be most effective. I also appreciate his knowledge about running dynamics and the fact that (unlike other medical professionals I have seen) he doesn't just tell me to stop running while my injury heals. Highly recommend!"
We Offer A Hands-On Approach To Your Wellness
Using Our Up And Running 3-Step Method.
Find The Real Cause Of Your Pain
We'll take you through a comprehensive biomechanical assessment and identify the cause of your problem. Then we'll explain what must be done to get you back to full speed and back to the activities you enjoy.
We'll develop a treatment plan that will be tailored specifically to you and your goals. This will ultimately allow us to get you stronger, pain-free, and on track to reach your goals more effectively and efficiently.
Once we get you back to exercising pain free, we'll implement strategies to get you performing at an even higher level than you were prior to your injury. We'll also implement strategies to "bulletproof" your body to decrease the likelihood of future injuries occurring.
Want To Get Relief Faster?